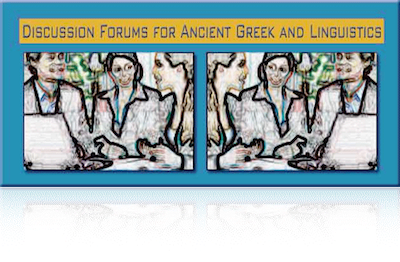 B-Greek is an electronic conference designed to foster communication concerning the study of the Greek Bible.
The Classics List is dedicated to discussion of the Greek and Latin classical literature. The site also provides links to many other sites related to the classics. You can check the archives of past discussions here.
While the focus of this list is the classical literature, and not the language per se, topics related to Greek linguistics are sometimes a part of the discussions.
INSCRIPTIONES-L (formerly EPIGRAPH-L and still often referred to as the "Epigraphy List") is a moderated discussion list devoted to the study of Classical Epigraphy. While the primary focus of the list is the discussion of inscriptions from the Greek and Roman worlds, discussion of inscriptions from 'peripheral cultures' is also welcome.
The Linguist List site provides access to many resources of interest to linguists and students of linguistics. While it is not directly concerned with Ancient Greek, the topic does come up on the list discussions from time to time and many of the resources available through this site will prove useful for students of Greek who want to broaden their knowledge of linguistics.
Textkit's Greek and Latin Forum has a section dealing specifically with Greek that covers learning everything from Homeric Greek to the Hellenistic Koine.